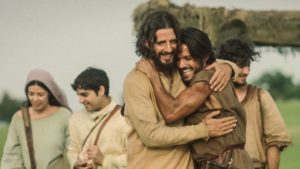 Two and a half years ago, during one of my formation meetings, I heard something wise that accompanies me until today. One simple rule: love and laugh. It captivated me and convinced me that when someone approaches life with deadly seriousness, something is wrong. Although many tears have been on my way lately, love and smiles still play the main role.
Recently it wrote about music, now it's time for a movie. I am not a big cinema lover. The list of films that I should see is extremely long and I have to assume that I will never see most of them. But there is a movie, even a series, that I have been watching with excitement lately, eagerly awaiting the next episodes. I've heard about "The Chosen" many times in previous years, but it wasn't until a few months ago that I decided to watch the first episode. Before, I was thinking what probably many of you have in mind: "What good can from Nazareth? Can you make a good movie about Jesus?" Well yes, you can! What Dallas Jenkins and his team have created is a fascinating journey not only through faithfully reproduced scenes from the Gospel, but also the networks of relationships that are formed around and in opposition to Jesus. Each episode was an introduction to prayer for me, during which I cried many times. However, this series is not only emotional, but also full of brilliant dialogues and great jokes, which makes it a perfect fit for the motto "love and laugh".
I don't think it will be a huge spoiler if I share with you a scene from season two that has inspired me spiritually. The moment of picking the heads of grain on the Sabbath is shown in such a way that Peter (actually still Simon) begins the picking, while talking vividly about something, when the apostles with Jesus pass through the fields. He does it unconsciously and probably would not have realised it at all if it were not for the fact that the other apostles look at him with surprise. After all, it is Sabbath, and harvesting is not allowed. Everyone is very hungry because they are running low on supplies and everyone wants to have a bite to eat. Jesus only says one word: "you may." At this point, it was as if someone had restored the freedom they had been deprived of by the law. Then, of course, the outraged Pharisees show up, and Jesus explains the situation to them by quoting the Scriptures about David and the priests, but that seems less important. One can try to understand why certain things are more important than the letter of the law, but it seems crucial to me not to let the reality of sin that separates us from God and closes us to love mix together in our hearts with what is unappropriated, not seen well or could cause the anger of others. If, in our prayer, Jesus consistently says to us "you may", and we still have doubts: "but what will others say?", maybe it is worth accepting the freedom of God's children with joy.
p.s. As a huge fan of "The Chosen" I watch not only the series itself, which you can find at https://watch.angelstudios.com/thechosen, but also additions on the official channel, inspiration from Pastor Brandon, and comments from Messianic Jewses 😉 If you haven't started to watch yet, catch up quickly, because the third season in coming in autumn!